[siteorigin_widget class="thinkup_builder_imagetheme"][/siteorigin_widget]
IMatch 2017, … 2018, … 2019:
Over 100 New Features and Enhancements
Improved Performance, Stability and Security
Integrated IMatch Anywhere WebServices™
Many New Useful Apps
If you are still using the legacy version 5.x of IMatch, you are missing out on many awesome new features and useful enhancements added over the past years.
Your IMatch installation is also lacking important bug fixes and security updates introduced in modern IMatch versions.
What Has Changed Since IMatch 5?
While IMatch 2019 looks and feels very similar to IMatch 5
, literally
hundreds of changes
have been made to it since version 5. Many features have been introduced and existing functionality has been improved based on user feedback. We work closely together with our users in the
IMatch community
to
make IMatch better all the time
.
Of course we've also fixed many bugs since version 5. Components and tools provided by third party vendors have been updated regularly. This not only enhanced system stability and performance, but also fixed several critical issues in the IMatch database system and other security-sensitive features.
What You are Missing
These pages list all major enhancements and changes introduced in versions following IMatch 5:
[siteorigin_widget class="thinkup_builder_tinymce"][/siteorigin_widget]
If you are still using IMatch 5, there are
many good reasons to upgrade
:
Continuous Support
Priority email support from the developers and in the photools.community. Questions asked in the community are answered within hours. Emails to the developer are usually answered within 8-16 hours or less. Competently! We don't use canned responses or email robots.
Frequent Updates
IMatch uses an agile development process. New versions are released every six to eight weeks, including enhancements, new features and bug fixes. In the rare case that a critical bug is discovered, we release an update as soon as the bug has been fixed.
64-bit Version
IMatch now runs in 64-bit and utilizes the huge memory resources available on modern computers and the performance features of modern 64-bit processors. This means IMatch 64-bit can handle massive database sizes and very large image files effortlessly. The fastest IMatch version ever.
IMatch Anywhere™ – IMatch on Any Device
Modern versions of IMatch allow you to use the IMatch Anywhere add-on to make your databases accessible from any device and operating system. Browse your image collection on your tablet, smart phone or Smart TV. On Windows, Linux, Android or iOS.
Support for Current and Future Windows Versions
Windows changes all the time and a breaking change may cause legacy versions of IMatch to stop working. Current versions of IMatch are kept up-to-date and run on all modern Windows editions.
Support for New Technologies and File Formats
Cameras, file formats, metadata standards change frequently. IMatch is actively maintained and kept up-to-date with modern technologies and file formats. IMatch not only manages images but also video files, audio files, Office and PDF documents and more.
[siteorigin_widget class="thinkup_builder_buttontheme"][/siteorigin_widget]
Got a Coupon Code?
Great. This will save you some money.  Just enter your coupon code during the order process: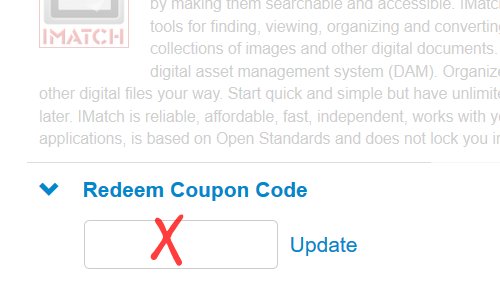 64-bit Edition
IMatch is only available for 64-bit versions of Microsoft Windows. If you are still using a 32-bit edition of Windows, you cannot use IMatch.
[siteorigin_widget class="thinkup_builder_seperator"][/siteorigin_widget]
Easy Upgrade

Upgrading to IMatch 2019 is easy and takes only a few minutes. IMatch 2019 works with your existing IMatch 5 and later databases and settings.
1. Click on the button below to open the IMatch order page
2. Enter your Coupon Code to claim your discount
3. After your order is complete, our distributor sends you an email with your license key and instructions
4. Log into the customer portal with your new license key and download IMatch 2019
[siteorigin_widget class="thinkup_builder_buttontheme"][/siteorigin_widget][siteorigin_widget class="thinkup_builder_seperator"][/siteorigin_widget]
Note: BASIC Scripting Discontinued

Support for the old Basic Scripting has been discontinued in IMatch 2017. IMatch now uses modern programming technologies based on open standards like HTML, JavaScript and IMatch Anywhere WebServices™.
If your workflow depends on custom IMatch scripts written in BASIC, evaluate IMatch 2019 carefully.
See the IMatch Developer Center for more information.