IMatch is one of the leading Digital Asset Management Systems (DAM) for Windows.
Manage, catalog and organize all your RAW files, digital images, videos, audio recordings, PDF and Office documents etc. in one software.
Start Managing Your Digital Assets Today
Drag folders from Windows Explorer into IMatch to add them to your database. IMatch automatically indexes the folders and files, imports metadata, runs image analytics, face recognition etc. The files are not moved, IMatch manages your files where they are!
When indexing is complete, your files are ready for viewing, culling, tagging, rating and metadata editing. IMatch has automatically organized your files into categories and placed them on the IMatch timeline.
Match is designed for amateur and professional photographers and all other creators who need to manage large collections of digital assets efficiently on Windows.
No registration required. We provide support for trial versions.

IMatch is available since 1998 and used in over 70 countries
It uses a perpetual license model, no subscription
IMatch easily manages one million assets per database1
Powerful and comfortable file management functions
IMatch works seamlessly with your other applications
Unparalleled features for organizing, finding and managing images, RAW files, videos and other digital assets
Integrated AI for face-recognition and more
Smart versioning with metadata propagation and buddy file handling
Flexible Batch Renaming
Top-notch support by the user community and the developers
1on suitable computers.
IMatch supports all relevant metadata standards like XMP, IPTC, EXIF, GPS, QuickTime, ID3, PDF, Office and more
Metadata created by IMatch is compatible with all standard applications, RAW processors, image and video editors
IMatch knows over 10,000 metadata fields, including thousands of camera-specific maker notes
Advanced features for GPS coordinates, reverse geocoding, track log import and mapping
Automatic keywording (tagging) with the IMatch AutoTagger
Unique IMatch Events and IMatch Categories technology
Advanced import, export, conversion and printing features
Known Concepts. Much Improved
The IMatch Media & Folders View works similar to Windows Explorer. It shows all the folders and files you manage in IMatch.
Clicking on a folder reveals its contents. For each file IMatch displays metadata like titles or keywords, camera information, location data, face annotations and more.
The user interface is very customizable. Show the data you need to see and make it your own.

Find Any File in Seconds
The IMatch search engine offers very powerful search and filter features.
Search for file and folder name, date & time, title, description, keywords, persons, events, attributes and in over 10,000 metadata fields.
Tell IMatch to:
show all images from June 2020
show all images with the keywords 'Mountain' AND 'Montana' in landscape orientation
show all photos of aunt Mary from this year
show all family photos from our London city trip last year
show all images with Peter and Susan but not Frank
show all images with a group of persons
show all photos from camera model X with an ISO setting above 1,000
show all videos taken in the area I have drawn on the map
show all images visually similar to the selected images
show all images matching the sketch I've just drawn
find duplicate images and copies
Filtering
The Filter Panel offers a wide variety of specialized filter modules.
Filter files based on rating, label, collections, date & time ranges, metadata values, events, persons, locations, file properties, Attributes, categories and much more.
The filter panel supports you when you have to find files using complex search criteria or combinations of multiple criteria.
Filters can be saved and later re-applied, which makes reoccurring searches quick to execute.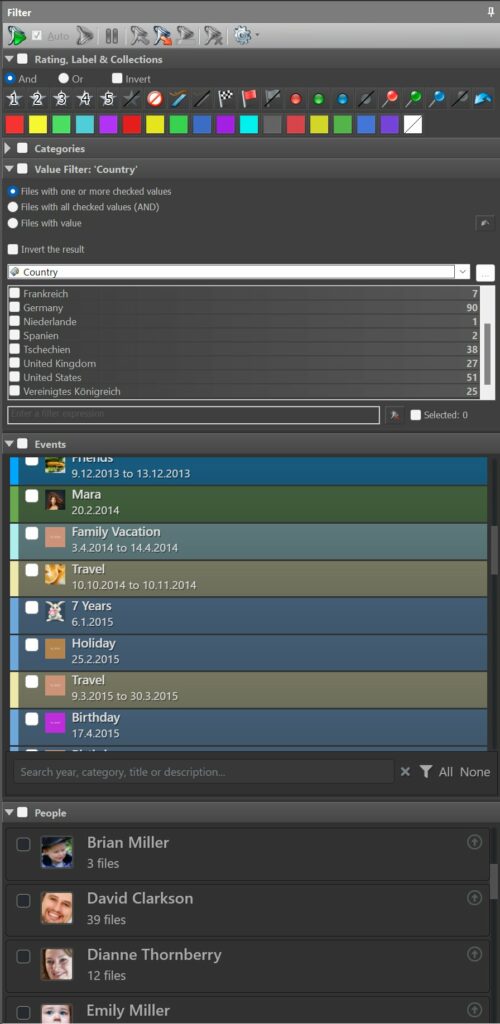 IMatch assigns known persons to faces and manages all persons in a dedicated view. Find images of persons or combination of persons with just a few mouse clicks.
IMatch analyzes how many faces are in an image and how they are arranged. This makes it possible to perform searches like "All images showing a group of persons created in 2022." or "All images showing Susan only".
Integrated Face Recognition
No Cloud!
The custom IMatch AI provides excellent face-recognition capabilities.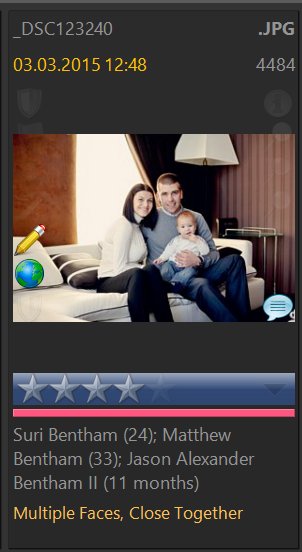 Very Smart Keywords
IMatch's Universal Thesaurus enables you to create a controlled vocabulary of keywords, including synonyms and IMatch's unique keyword links.
Add individual keywords or entire sets of keywords with a few keystrokes. IMatch suggests keywords from your thesaurus while you type and you can select them directly with a click.
These features save you a lot of typing and improve keywording quality (the same keyword for the same thing).
Color-coding keywords from different 'groups' provides a visual indication of keyword completeness.
Automatically Add Keywords with the IMatch AI
The AutoTagger feature in IMatch enables you to automatically add keywords to your files by utilizing the IMatch AI. The IMatch AI is an integral part of IMatch and free to use. It runs locally on your PC, without any privacy issues.
AutoTagger also supports several 3rd party cloud-based image classification services from companies like Google, Microsoft, Clarifai and imagga.
Each services has its strengths and weaknesses. Some vendors support multiple models, e.g. for wedding, travel photography, food or apparel. Others support keywords in multiple languages or detect known landmarks in images and provide additional information or even GPS coordinates.
The AutoTagger is fully integrated with the IMatch keywording features, including the IMatch Thesaurus. You can easily map the keywords delivered by the services or the IMatch AI into hierarchical keywords, translate them, produce multiple keywords and synonyms from delivered keywords and much more. Of course all keywords are stored in standard-compliant XMP and IPTC formats in your files, accessible for other applications.
This combination of features and capabilities sets IMatch AutoTagger apart from AI keywording offered by other software.
Organize With @Keywords
IMatch automatically organizes your files by their keywords into hierarchical categories. Clicking on one of these categories reveals all files with that keyword.
By selecting multiple categories you can easily find images with specific combinations of keywords. If you need more advanced searches, use the Boolean operators AND, OR and NOT to combine keywords as needed.
You can create dynamic categories from search expressions. IMatch automatically keeps them up-to-date.
Save Time with IMatch AutoFill
Define sets of metadata and contents once, then recall them anytime in the Metadata Panel quickly.
AutoFill makes it super-easy and efficient to add repeating data like author information, copyright and legals, locations (including GPS coordinates), taxonomy data and more.

Viewing and Culling
All image displays in IMatch are fully color-managed and hardware-accelerated.
The Viewer is the main feature for viewing, culling and rating images. It supports instant zoom and displays up to 8 images side-by-side, with synchronized zoom and pan.
Various information overlays like a histogram or grid help with selecting your best shots in no time.
IMatch Events
The unique IMatch Events feature organizes your files in a very intuitive and visual way.
An event can be anything: A birthday party, a photo shooting, a city trip or your families' annual vacation.
Events are created from date ranges, folders, categories and selections of files.
Events have a start date and duration and are arranged on an infinite timeline.
GPS and Mapping
IMatch uses existing GPS coordinates in your images to perform reverse geocoding. This fills metadata location fields like country, city and location and optionally produces matching keywords. Files with location data are automatically categorized (see below).
You can add GPS coordinates to your files and import track logs in the Map Panel. IMatch supports maps provided by OpenStreetMap, Google, Bing and HERE.
Automatic Categorization
IMatch automatically categorizes your files based on technical data like camera model, lens, aperture, ISO and more.
If location data is available, files are placed into categories based on country, city and location.
If IMatch's face recognition is activated, files are automatically categorized by persons shown and the number and arrangement of faces.
Workflow Categories organize files based on criteria like "Files Added This Week", "No Headline", "No Rating" or "No Keywords". This helps you to quickly identify files which need work.
Versions and Buddy Files
The buddy file (sidecar) management in IMatch automatically keeps related files together when you move, copy, rename or delete the master file.
IMatch's unique and powerful file versioning enables you to automatically propagate (copy) metadata like ratings, labels, headlines, keywords, collections and IMatch Attributes from the master file to its versions.
The animation on the right shows how IMatch automatically propagates changes the user does to rating, label, headline and keywords from the master file to the three versions linked to that master.
Printing and Batch Processing
One of the advanced export features in IMatch is Design & Print. This module is used to produce prints, photo books and other media. Design & Print outputs directly to your printer, to PDF files or saves pages as images so you can print elsewhere.
The Batch Processor converts images and exports them into multiple formats. It can add text and image overlays, watermarks, borders and QR-codes. The user has full control over the metadata included in the output images.
Easily Integrate Other Applications
IMatch offers several ways to integrate your applications and tools:
Keyboard shortcuts for opening files in the associated application
Integrated Windows Explorer context menu
IMatch Favorites
User-defined toolbar with quick launch buttons for your favorite applications
Drag and drop from IMatch to Windows Explorer and other applications
Everything That's Important
The IMatch Dashboard collects all the important information about your asset collection in one place.
Recently updated and added images. Recently viewed or created events, persons and more.
The user-configurable Quality Panel shows you files which need your attention. If there are recommended actions, they are listed in the Actions Panel. The Statistics and Location panels present useful statistics about the files and folders in your database, like keyword usage, the largest folders, file statistics, countries and more.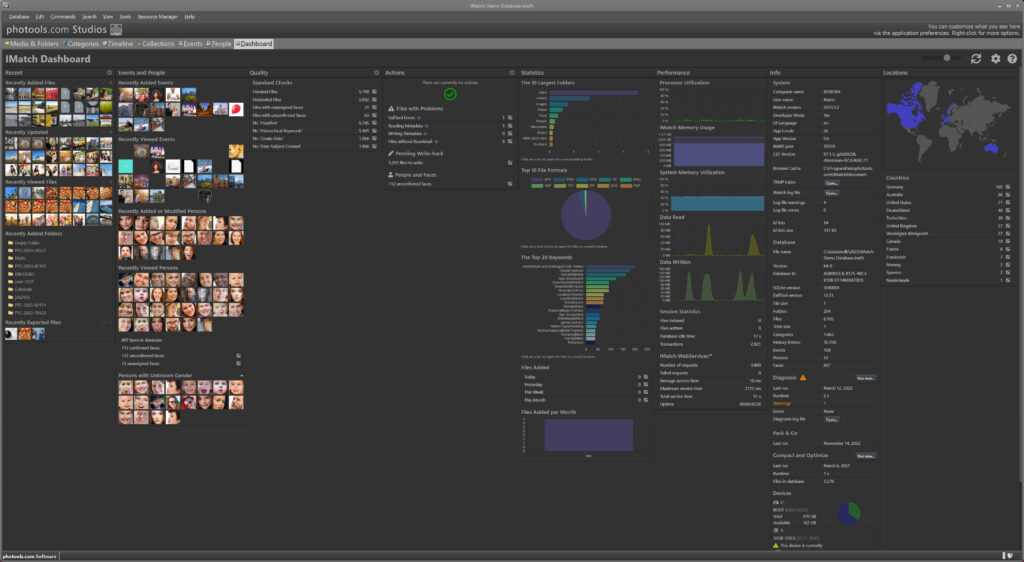 IMatch Overview
Watch this video for an overview of all major features in IMatch.