IMatch Version 2019:
Over 50 New Features and Enhancements
Improved Performance, Stability and Security
New Helpful Apps
IMatch 2019 is a free upgrade for all users with a license for IMatch 2018.
You can install this version immediately with the Updater App or by downloading the latest version from the customer portal.
If you still use IMatch 2017, your support period is running out soon. Please upgrade now to IMatch 2019 and claim your 40% discount. See the customer portal for details.
For the 2019 major upgrade we did a lot work on the core technologies of IMatch, to make it even more reliable and faster. These optimizations resulted in faster startup and database loading. Faster processing of categories and collections to reduce lag when working with features like the File Window, keywords or filters. Re-invented search engine for massively improved performance, now with sub-second searches even in large databases.
We've incorporated new technologies to make IMatch fit for the future and to adapt it to changing requirements caused by new file formats, workflows and standards in the photo industry.
Support for new file and RAW formats has been added by including the most recent versions of 3rd party components used for image processing in IMatch.
IMatch now uses helper processes to reduce memory usage and to increase security for the embedded Chromium browser (App Panels, Map Panel, App Manager).
This upgrade includes over 50 new features and enhancements. Over 30 bugs have been fixed.  Many feature requests from users have been incorporated into IMatch 2019.
There are also dozens of smaller changes, enhancements and tweaks, each of which could just be the thing that saves you hours of work each week.
Detailed Release Notes
Below you'll find a list of the most important additions and changes in IMatch 2019. For a full list of all changes, enhancements and bug fixes, see the release notes for IMatch 2019.
Also pay attention to the release notes of the updates following IMatch 2018.7.2 if you upgrade directly from IMatch 2017.
For IMatch 2017 Users:
If you are just upgrading from IMatch 2017 to IMatch 2019, make sure you bring yourself up-to-date with all the new features and changes. Read the Release Notes for all IMatch 2018 versions.
64-bit Edition Only
IMatch is only available for 64-bit versions of Microsoft Windows. If you are still using a 32-bit edition of Windows, you cannot use IMatch.
How to Upgrade
Upgrading to IMatch 2019 is easy and takes only a few minutes. IMatch works with your existing IMatch 5 and later databases and settings.
1. Click on the button below to open the customer portal
2. At the top you'll see your personal upgrade voucher
3. Click on the Upgrade Now button and follow the instructions
Note: This is a FREE upgrade for all users with a license for IMatch 2018.
See Upgrade Details below for details about upgrading to and installing IMatch 2019.
Highlights in IMatch 2019
Help System Now Available Online
The help system for IMatch is now hosted on photools.com: https://www.photools.com/help/imatch/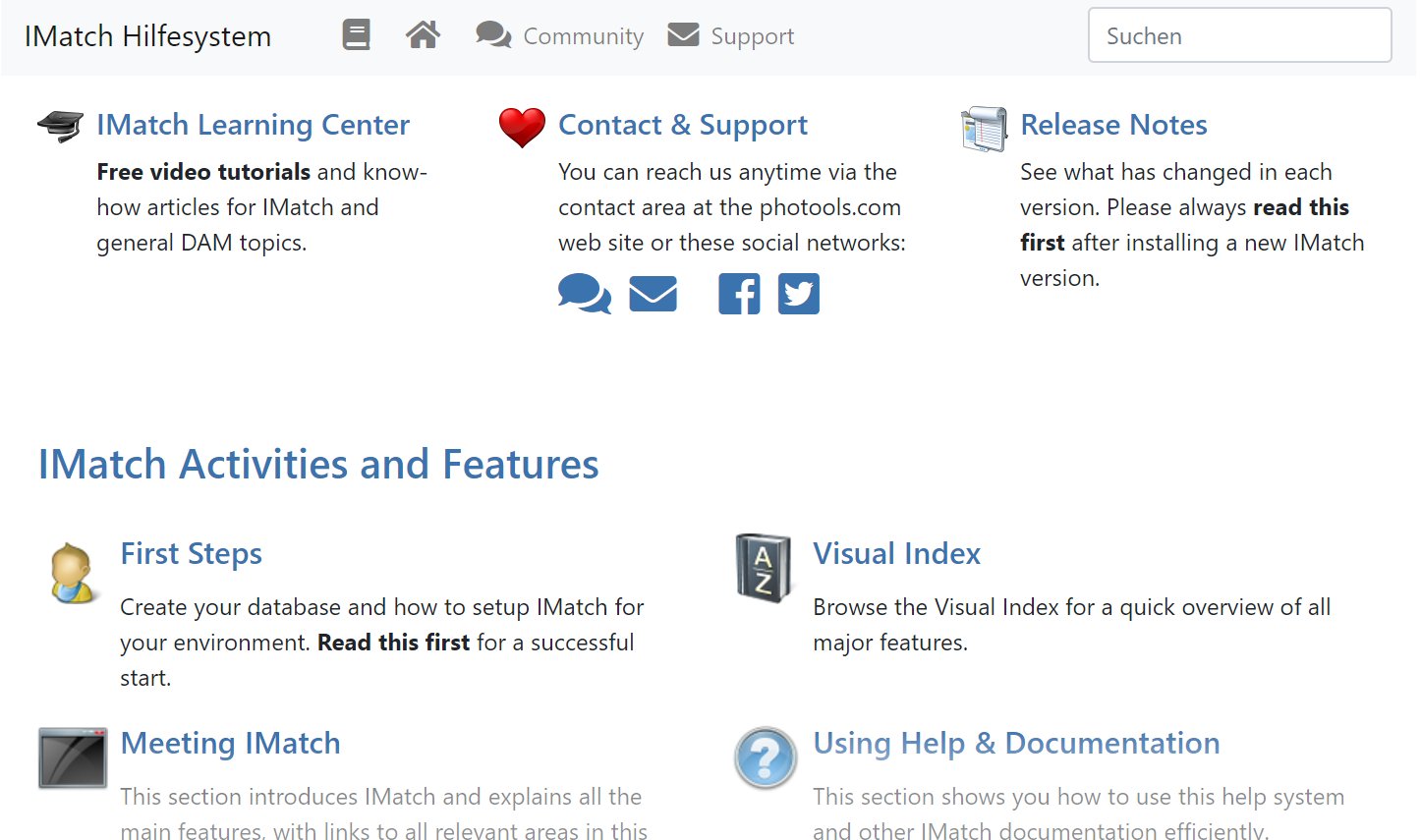 Always Up-to-Date
Hosting the help on our web site makes it easy for us to quickly fix problems in the help and to add new contents, even when no new IMatch release is due. We incorporate changes all the time, based on user feedback or questions asked in the community. Now these changes will become immediately available to all IMatch 2018 and 2019 users.
Fully Integrated into IMatch
When you press <F1> inside IMatch or you click on a Help button, IMatch now automatically opens the corresponding help topic in your web browser.
On All Your Devices
Having the help system accessible in your browser makes it much easier to read the help on your tablet or smart phone.
In Your Language
If you are not that fluent in English, you can use the built-in translation feature in your web browser to translate the IMatch help into your language.
Standalone IMatch Help System App
For users who are not always online or who prefer a locally installed help system, we provide an app as a separate download. This app will be updated occasionally, usually with new IMatch releases or substantial changes in the online version of the IMatch help system.
You can download the most recent version of the Help System App from this URL: https://www.photools.com/imatch-help-app/
Redesigned Window Search Bar
We have totally revamped the search bar in the File Window to make it more useful and easier to use.
You can now search in typical tag groups, frequently used tags or everywhere in the metadata contained in your files. An exact phrase match has been added if you need to find a perfect match for your search term.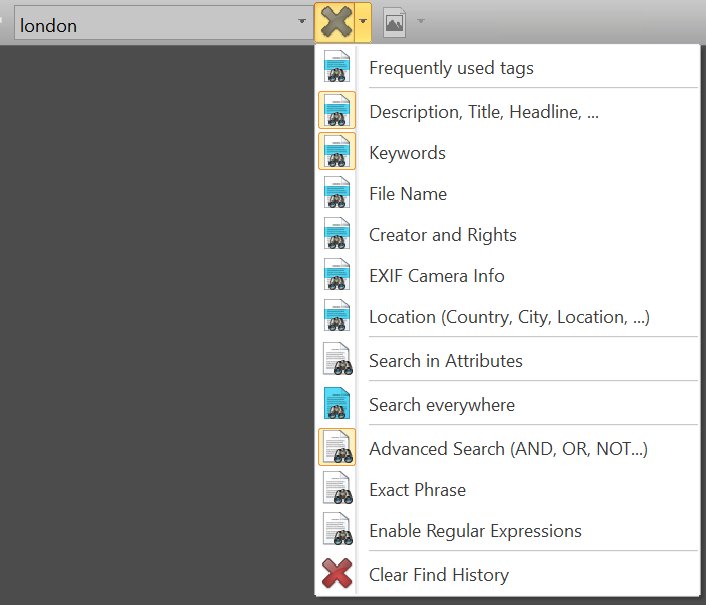 New Search Options Tooltip
It's easy to forget which options you have set for the search bar. Here the options tooltip comes to the rescue! It displays the current options when you point the mouse cursor at the X button:

Much Faster Search Engine
The IMatch search engine is used by features like the File Window search bar, the Filter Panel, certain data-driven categories and IMatch Apps.
For IMatch 2019 we've redesigned the search engine, adding the speed of in-memory indexing technology virtually without the penalties caused by constant search engine updates when you make changes to metadata or categories.
The end result is a search engine can search 50,000 files in less than one second (common metadata tags and file names combined). For databases with 500,000 files, the search time is 5 seconds (when the search index needs first to be updated) and about 2 seconds otherwise.
Faster Write-back
IMatch now uses parallel write-back one systems with multiple processors (cores) when you click on the pen icon in the File Window or you use one of the Commands menu > Write-back commands.
This results in typically 2 to 3 times faster write back. Under ideal conditions (e.g. writing back to JPEG files without versioning) the write-back performance can be 5 times faster than before.
Simplified File Window Layout Editor
IMatch now by default uses a simplified version of the layout editor. To open the simple layout editor, just click the header/footer area of a File Window panel.
This makes it super-easy to experiment with different layouts or to switch the data shown in the File Window quickly as needed.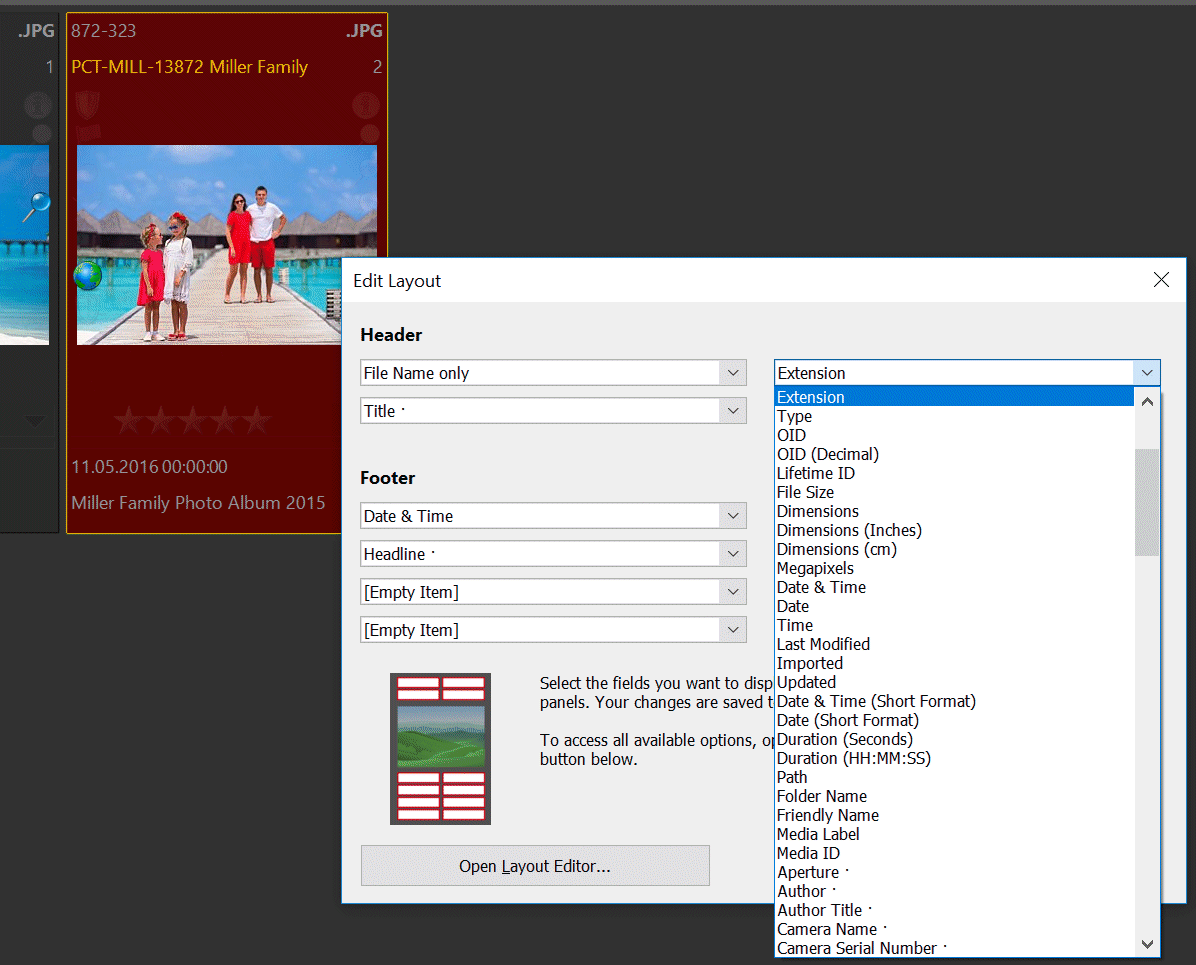 The full-features layout editor can be opened directly from the simple layout editor with a single click.
Redesigned App Manager
The App Manager now displays apps in form of icons, like you are used to from your smart phone. This not only looks better but also allows you to launch your favorite apps quicker: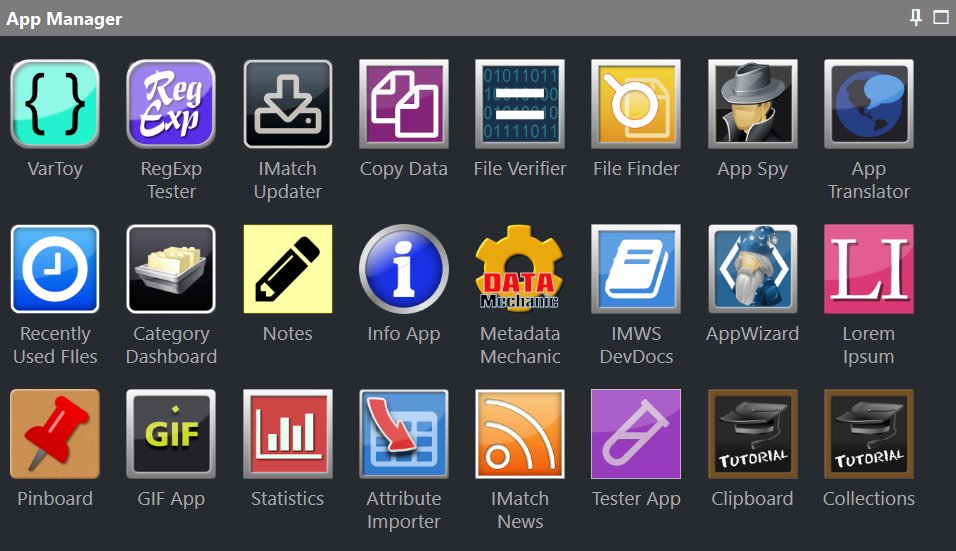 Improved Support for PDF Files
Match now uses an awesome 3rd party open source PDF processing library ( XpdfReader) to extract thumbnails /and previews from PDF files. Only if this tool fails, IMatch falls back to using the installed WIC PDF codec (if any) or the integrated Windows thumbnail features.
The result of this change are much better thumbnails and PDF previews rendered at 300 DPI, large enough to be easily readable even on 4K screens. Support for various PDF variants is excellent. We were able to produce proper thumbnails for all problem PDF files in our sample collection. These files failed to produce thumbnails before (using both the FPV WIC PDF codec and the Windows thumbnail generator with Acrobat Reader installed).
The following examples show the old (left) and new (right) thumbnails created by IMatch.
See Release Notes for IMatch 2018.10.2 for more information and instructions.

Improved Copy Attributes and Data Command
This command was enhanced and now supports additional tag sets for quickly copying frequent data like Description, GPS coordinates, location data and more.
Quickly Toggle All Panels with a Keyboard Shortcut
By pressing F9, Backspace you can now show/hide all open panels quickly.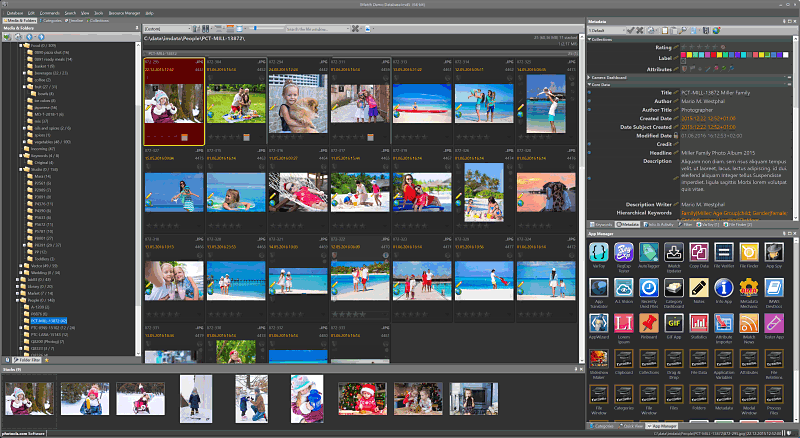 New File Window Features
We did a lot of productivity work all over IMatch, and several enhancements were added to the File Window. See the release notes for full details. Here are some of the changes:
Single-click Show and Hide Stacked Files
The File Window now has an option which allows you to temporarily show all files normally hidden by a collapsed stack (version or regular)). This feature is controlled via the new toolbar button or the corresponding keyboard shortcut:
Quick Launch
The File Window displays the icon of the associated application for the currently focused (file the application configured in Windows to open files of that type). To open the file in that application, just click on the icon. Or use one of the commands from the drop-down menu.
Left: PSD file selected, right: DNG file selected. Just click the icon to open the selected file(s) in this application. Or choose one of the commands from the drop-down menu.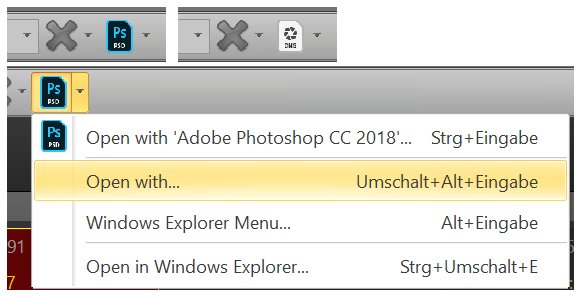 This button offers a drop-down menu with the most frequently used commands for opening files.
The Metadata Mechanic App
This new app comes to the rescue when you have to fix incomplete or invalid metadata:
Replacing names or arbitrary text in any number of files
Remove all or parts of strings
Correct typos
Append or prepend text
...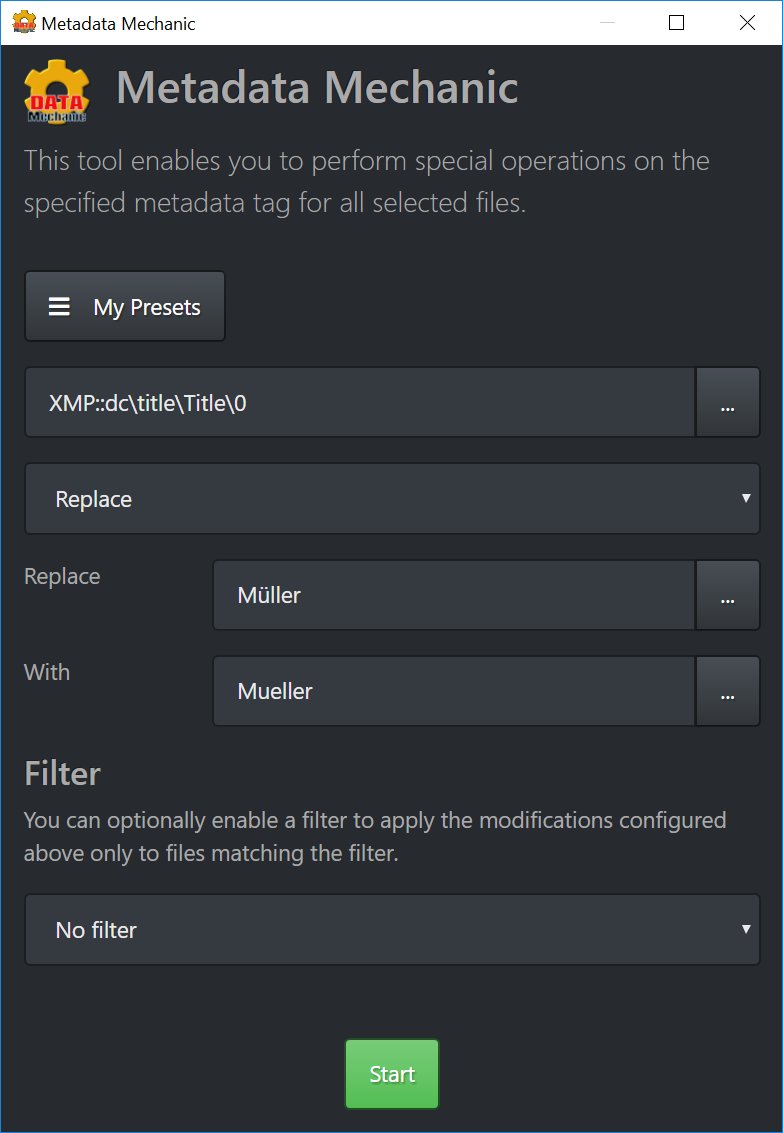 Map Panel Enhancements
'Created' and 'Location Shown' Coordinate Handling
The Map Panel now can display both the 'location created' (camera standpoint) and destination (location shown) coordinates for files with two separate GPS coordinate records. Of course you now can set both coordinate pairs in the map panel and the reverse geocoding and related features have been extended to be able to handle two coordinate pairs.
Field of View (FOV)
The Map Panel has been extended to optionally display the field of view - determined by the line between the created and destination coordinate, the focal length of the lens used and the specific sensor size / crop factor of your camera.
In the following screen shot the map displays two images, each with both a created (camera standpoint) and destination (location shown) coordinates. The FOV overlay is enabled and shows the field of view covered by both photos.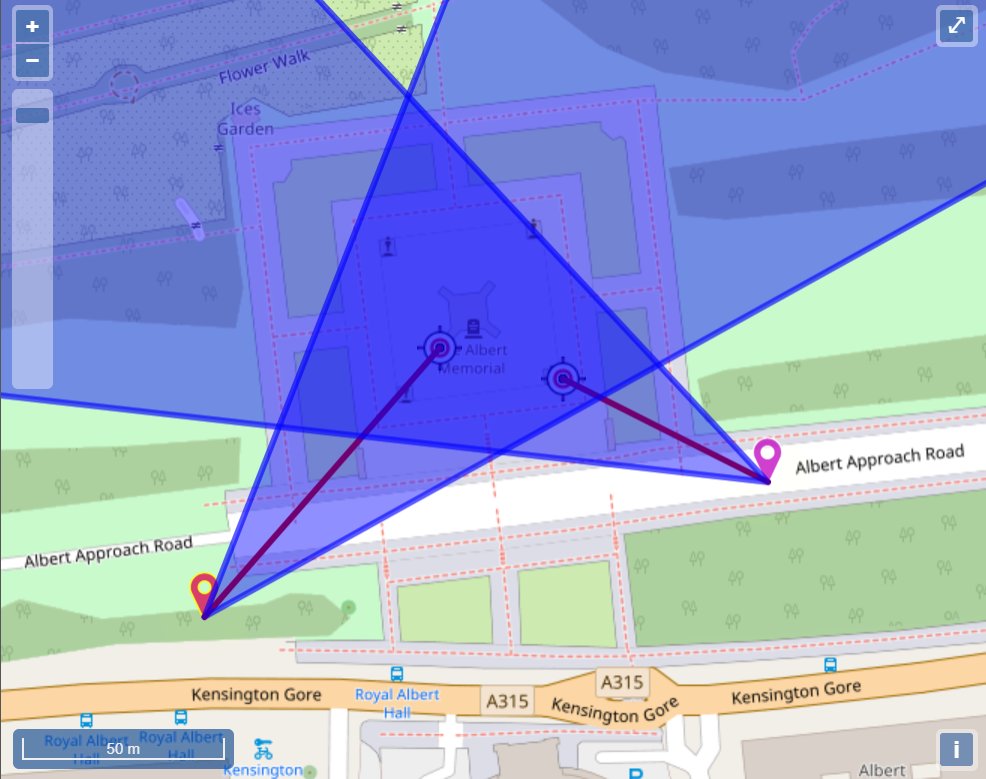 Track Log Import With Interactive Time Offset Adjustment
If you produce external track logs from which you later import coordinates into your images via the Map Panel, you will find that the new improved configuration dialog makes dealing with time offsets between the track log and the images much easier. It now has a live preview of the results, allowing you to determine the required time offset more quickly:

Access Your Batch Processor Presets from the Commands Menu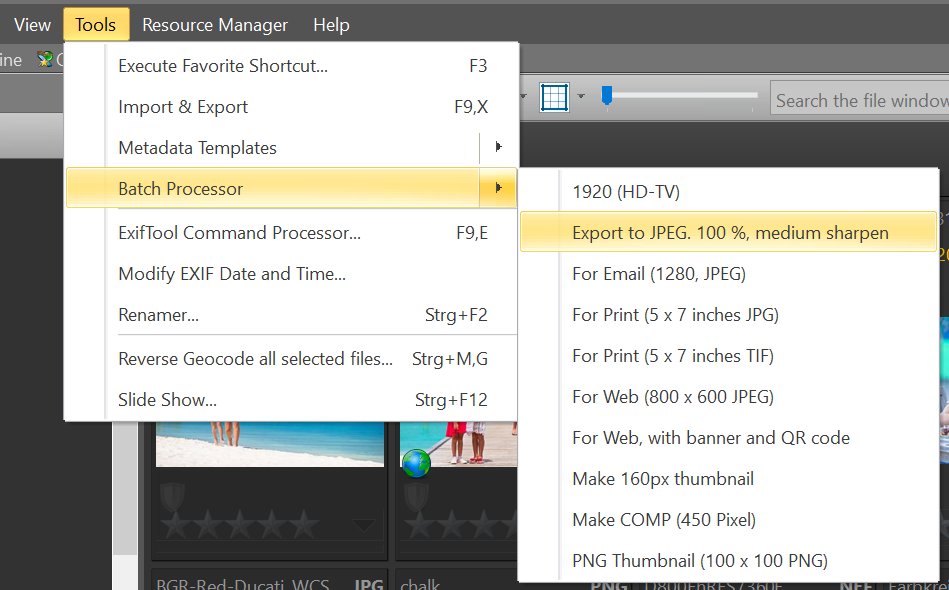 Category Filter
The Category Panel now has an option to show only categories used in the current scope (File Window contents). If you enable this option, the tree is replaced by a list of all categories used by at least one of the files in the File Window. Now it's very easy to filter based on the actually used categories.
New Apps
Attribute Importer
An often requested app. With it you can import arbitrary metadata into IMatch Attributes.
News App
This app allows you to keep track of new posts in the photools.community directly from inside IMatch. If you see an interesting topic, you can open it in your browser with a single click. The app also displays news from photools.com, e.g. about updates, critical bug fixes or security updates.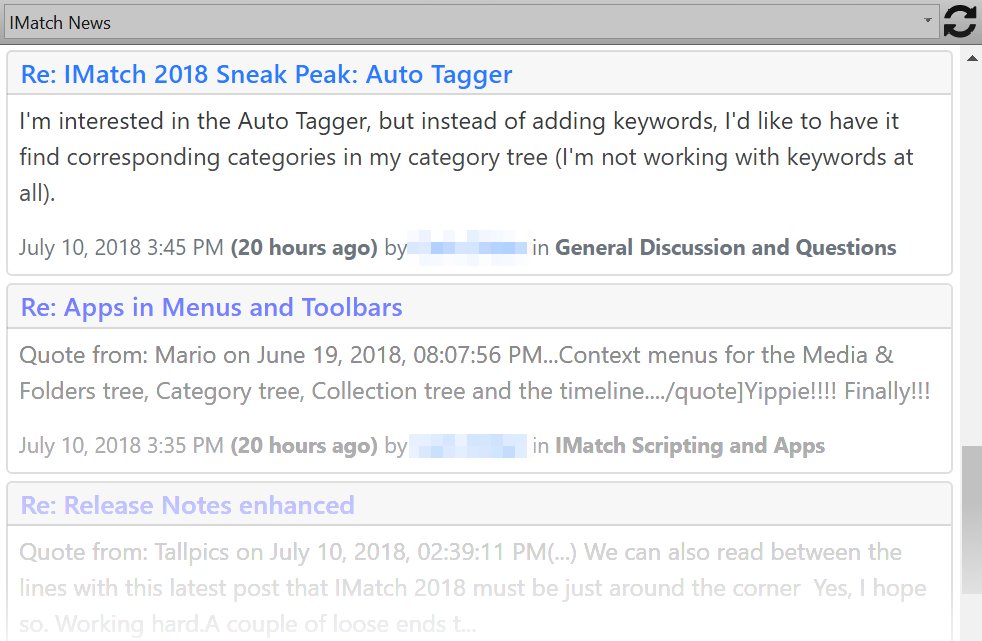 Interactive RegExp Tester
This app is a revival of an script we had in IMatch 5. The app makes it easy to interactively test IMatch regular expressions. This can be very helpful if you need a more complex regular expression for features like versioning or searching.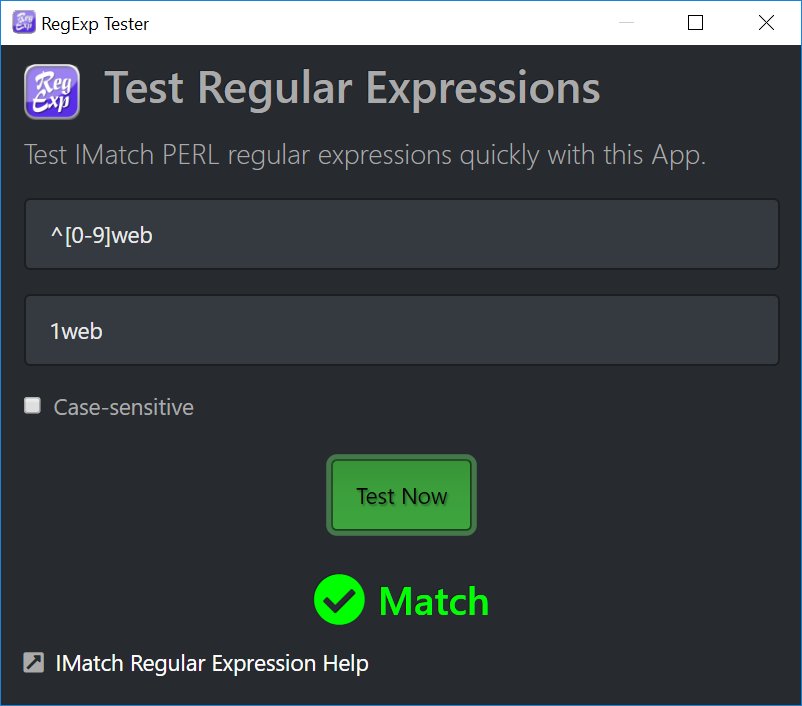 Improved File Finder App
This app has been extended to support selecting files in the active File Window in addition to displaying results in a separate result window. The ability to quickly select files with file names similar to the currently focused file can be a big help in many workflows.
Built-in Update Downloader and Installer
With the new Updater App you can now download and install updates comfortably.
You can either run the app manually from the App Manager, or let IMatch check for updates automatically (default) and then choose to run the app when IMatch notifies you of an update.
Dozens of Smaller Enhancements, Changes and Optimizations
These changes may not look like much in the release notes, but they may be just the thing that improves your workflow or saves you hours of time every week.
Many of the feature requests made by users fall into this category. Small changes here and there, an extra option for an existing feature or  some fine-tuning for performance and it works twice as good. See the release notes for a full list of changes and additions.
64-bit Edition Only
Match 2018 and IMatch Anywhere™ 2017.18.2 and later versions are only available in 64-bit editions.
If you are sill using a 32-bit Windows system, you cannot use these software products.
New Features for Developers
Whether you an IMatch user who writes apps for himself or you are programmer working for a corporate IMatch client, the updated IMWS included in IMatch 2018 has something for everybody.
New Endpoints
New features were added to IMWS for this release and new endpoints give apps access to these additions.
Service Apps
These apps run in the background, invisible. You can use them to automate things in the background, monitoring IMatch and IMWS events and then performing tasks.
See the IMatch Developer Documentation for detailed information.
Upgrading to IMatch 2019
Upgrading is easy. IMatch 2019 is an evolutionary upgrade and works with your existing database and settings.
All IMatch users are encouraged to upgrade to IMatch 2019 as soon as possible. It not only has some exciting new features, but also contains important bug fixes and security updates.
Upgrade Fee
Users with a license for IMatch 2018 get IMatch 2019 FOR FREE.
You can update using the Updater App or by manually downloading the latest version from the customer portal.
Users with a license for IMatch 2017 can upgrade to IMatch 2019 with a very fair discount.
No discounts are available for users of older IMatch version (IMatch 5 or IMatch 3).
As usual (see also my fair update & upgrade policy), users with a license for IMatch 2017 get a 40% discount on the regular price.
After logging into the customer portal you will see your personal discount voucher right at the top.
Click on the green button to upgrade. Your 40% discount is automatically applied and you|ll see the reduced price in the myCommerce shopping basket.
Please show your support for IMatch and my work by purchasing your upgrade.
This will ensure a continuation of the product, this community and allows me to provide you with the best DAM software now and in the future.
Free Upgrades
All users who have bought or upgraded to IMatch 2017 on or after January 7. 2018 get IMatch 2018/2018 for free.
Your account has already been upgraded and you can download IMatch 2018 from the customer portal.
Installation
This is an evolutionary upgrade. IMatch 2019 works with your existing databases and settings.
As a precaution, make a backup of your database and settings before installing the upgrade.
IMatch 2019 uses an improved and extended database format. It converts existing databases on first open. You will get a message of course.