Using smart file names can be a key for successful digital asset management. Some users prefer to include dates in file names. Other users include project codes or use a globally unique file naming schema. Whatever naming schema you decide to use, IMatch has tools to make the job easier.
IMatch includes a powerful tool named Renamer. With it you cannot only rename files in smart ways, but also copy and move files, add folders on-the-fly, create automatic backups, and more…
The Problem
Cameras often use file names like _DSC12345.jpg, which are not really informative or useful. You cannot tell anything about the contents of the file by just looking at the file name. And, if you use more than one camera, you may even end up with duplicate file names. And that's never a good idea.
Although the physical file name is not that important anymore when you use a Digital Asset Management (DAM) system like IMatch. But it's always better to be able to work with your files properly outside of your DAM, e.g. when you upload files to your web site or send them out to clients or a printing service.
The Solution
The IMatch Renamer tool enables you to create consistent and descriptive file names – automatically, when new files are indexed by your database, or later at any time. Whether you use simple numerical file names or you include additional information like date and time, a project code or even metadata like title or job id is up to you.
Some Examples For File Naming Conventions
_DSC12345.ext
This is the file name format used by most digital cameras today. Each image file gets a sequential number and the prefix DSC (Digital Still Camera). A leading underscore is added if the file is in the Adobe RGB color space.
2015-08-01_12345.ext
This file name consists of the year-month-day the image was taken, plus a sequential number. This format is pretty common because the file names are not only descriptive but also ensure that the images are sorted by date in software like Windows Explorer.
P8781-00121.ext
P8781-20150801-00121.ext
A file naming schema which uses a project code (P8781) and then a 5-digit sequential number which identifies each file in that project. The second variant also includes the date and time.

The Renamer has a special project code feature which prompts you to input a project code automatically.

20150801-usa-new-↵
york-890.ext
A file name which consists of a date stamp, the country and city name where the image was taken and a sequential number. File names like this are great when you travel a lot.

The Renamer can construct such file names from the location metadata in the image automatically.

Project_Location_Lab_Cond_↵
20150801100501_001.ext
A file name how it is often used for files created in research projects. Each file name contains important information about the object(s) shown in the image.

The Renamer can construct such file names automatically by accessing both metadata stored in a file and global variables, e.g., the project name or the location and lab data.
Your naming convention make be based on one of these examples, or you create your own unique way of naming files. The Renamer in IMatch is flexible enough to handle (almost) everything you can come up with.
The IMatch Renamer
To rename files, select them in a File Window and then bring up the Renamer by pressing <Ctrl>+<F2>. The Renamer has a comfortable user interface which allows you to produce file names by adding one or more steps. There are steps to:
[list_font icon="check-square-o" list_item_1="add date and time in various formats" list_item_2="add plain text and IMatch variables" list_item_3="converting the case of file names" list_item_4="including selected parts of the original file name" list_item_5="replacing or delete text" list_item_6="removing (leading/trailing) digits" list_item_7="adding unique or sequential numbers" list_item_8="copying and moving files" list_item_9="creating folders on-the-fly, even with names based on variables" list_item_10="prompting the user to enter a project code when he renames files" list_item_11="…"]
While you add or change steps, the embedded preview allows you to see the resulting file names. No changes are made to the file system, the Renamer merely simulates the rename operation. It also checks for and indicates duplicate file names you may produce with your steps.
Example: Date and Sequence Number Format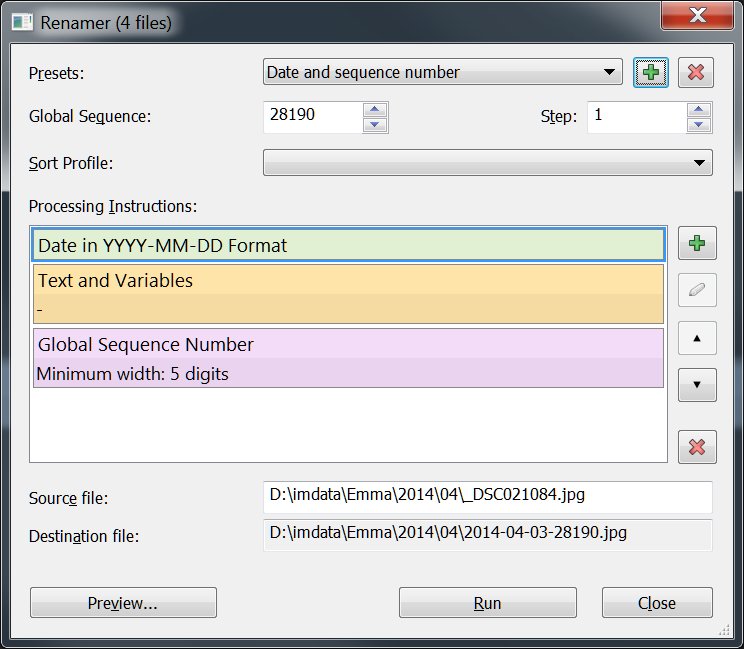 In the screen shot above we create file names in the format: YYYY-MM-DD-nnnnn.ext format. At the bottom of the dialog box you see the source file name and destination file name. If you rename more then one file, you can click on the Preview… button to see the resulting file names for all files.
Example: Including the ISO Country Code and City Name
To create the more complex YYYYMMDD-Country Code-City Name-sequence number format explained in the table above, we just need a few more steps: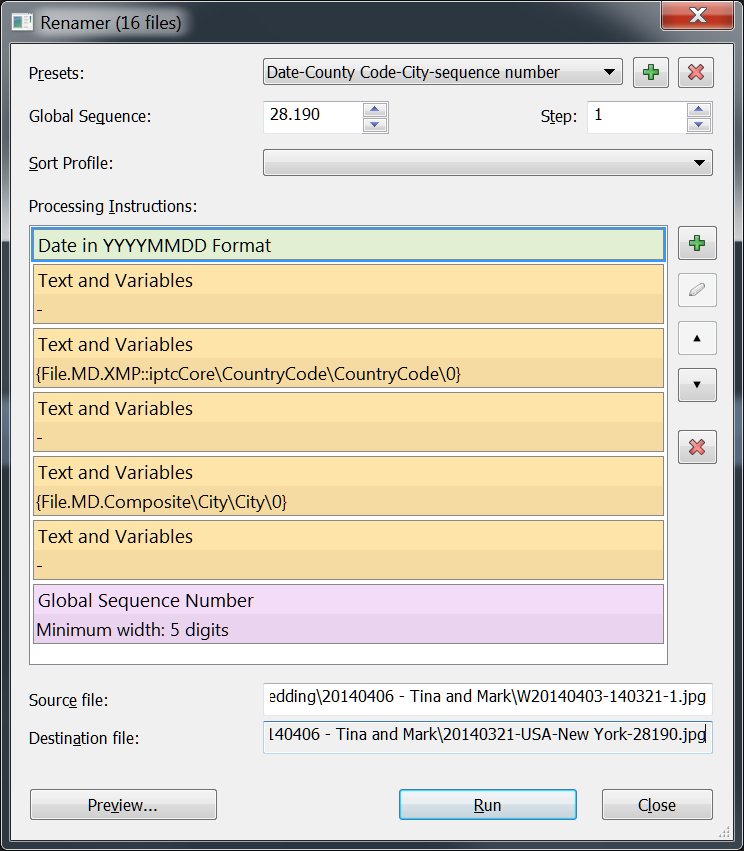 The first step adds the date in the YYYYMMDD format. Then we add a – and the ISO country code. We follow up with another – and then the name of the city. The country code and city name are retrieved directly from the XMP metadata of the file by using the corresponding IMatch variables. The final two steps add yet another – and a 5-digit sequence number. For the sample image used for this demo, the resulting file name is: 20140321-USA-New York-28190.jpg.
See the Renamer topic in the IMatch help system for numerous additional examples and tips & tricks.
Important: Buddy and Sidecar Files
Most of the RAW processing software in use today (and also image editing software, audio and video processing tools) produce sidecar or 'buddy' files for each file you process. A typical example are XMP files which contain the XMP metadata for your RAW fies. If you have a _DSC12345.RAW file, the XMP file will be named _DSC12345.XMP.
RAW processors or image editing software also create a variety of other files with settings, configuration data or history info for each image you process in these applications. Sometimes these files are in the same folder as the image, sometimes in sub-folders.
When you rename an image file, it is important to rename the sidecar and buddy files as well. Otherwise you may break the 'link' between the image file and the sidecar files which can have dire consequences.
The Renamer cooperates with IMatch's unique file relations concept and thus 'knows' about buddy and sidecar files – even if these are not indexed by your IMatch database. The Renamer automatically ensures that buddy and sidecar files are renamed together with the image file.
File Names in Digital Asset Management
The Renamer tool in IMatch enables you to create descriptive and consistent file names. It offers easy features to include date and time, arbitrary metadata, text and automatic numeric sequences in file names. By using the embedded preview you can test your rename results without making changes to the file system. The Renamer also cooperates with the unique file relations feature in IMatch to automatically rename buddy and sidecar files when the corresponding image is renamed.