This free utility performs some checks on your system to determine if your computer can run IMatch or IMatch Anywhere™ successfully.
Download the Utility
Please download the latest version of the photools.com System Information Utility by clicking this button:
Download the file to a known folder on your system, for example into the Windows Download folder.
Open this folder in Windows Explorer afterwards.
Extract and Run
The downloaded file is namedptc-sysinfo.zip and you must extract its contents before you can run it.
Right-click on the file in Windows Explorer and choose Extract from the context menu. This gives you a file named ptc-sysinfo.exe in the same folder.
Hold down the Shift key and right-click onptc-sysinfo.exe. From the menu, choose the Copy as path command. This copies the fully-qualified file name of the file into the Windows clipboard.
Open a Command Prompt
From the Windows START menu, open a command prompt window. Press Windows Key + S and search for cmd. Then select the Command Prompt App from the result list.

Run the Utility
Right-click into the window that now opens. This pastes the name of the ptc-sysinfo.exe application into the console window. Press Enter on your keyboard.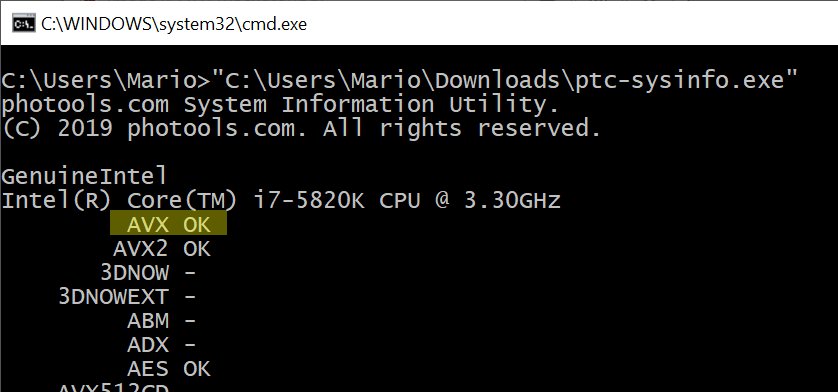 The Results
The important information is the support for AVX, which is required to run IMatch 2020.
AVX is a technology that has been introduced in 2011 for both Intel and AMD processors. See this Wikipedia Article for more information.
If your computer has a processor produced before 2011 or it uses one of the rare processors without AVX, you cannot run IMatch 2020 on that computer.