IMatch Anywhere™ Version 2019:
Over 20 New Features and Enhancements
Edit Metadata, Keywords and Categories in Your Browser!
Flexible Image Downloader
Result History and More...
This is the first release which includes the new remote editing technology. You can now edit metadata, ratings, labels, collections, keywords and categories comfortably directly in your browser.
Detailed Release Notes
Below you'll find a list of the most important additions and changes in IMatch Anywhere 2019. For a full list of all changes, enhancements and bug fixes, see the release notes for IMatch 2019.
Highlights in IMatch Anywhere 2019
Security Updates
All 3rd party components and programming libraries have been updated to the latest version to incorporate all available security updates.
New FileLens Feature
This awesome new feature allows you to edit metadata (title, description, rating, label, ...), keywords and IMatch categories comfortably directly in your web browser.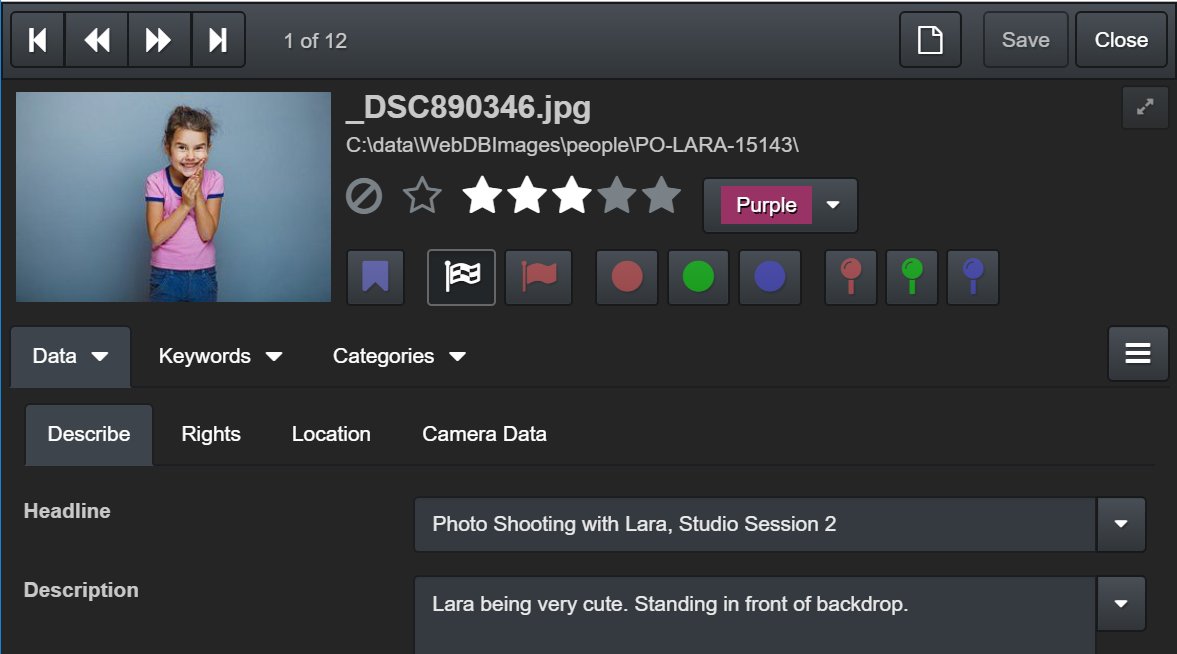 The FileLens arranges Metadata, Keywords and Categories into separate views. This helps casual users and also works great on smaller devices.
Input aides like recently used lists, thesaurus access and quick input controls speed up your workflow and improve overall data quality.
Working with Keywords
Adding keywords to files is one of the most common operations. The keyword editor in the FileLens offers a very convenient environment for this task.
Auto-suggestions from the IMatch thesaurus while typing, recently used keywords and user-defined favorites are just some of the elements available in this view. Access to the full IMatch keyword thesaurus hierarchy, copying metadata between files, changing keywords and other metadata for individual or all selected files are other key features.
For Administrators
Access to the FileLens and individual features is controlled via standard IMWS user groups.
Image Downloader
Users can now download images in different sizes and formats. Multiple images can be downloaded in one go as ZIP archives.
System-defined and user-defined download presets are supported, which offers a great deal of flexibility.
This feature can be used to produce images for embedding (e.g., in Office or Email), uploading or sharing.
For Administrators
The system administrator controls access to this feature via regular IMWS user groups. He can allow users to create their own download presets or limit them to a set of predefined and centrally controlled download presets.
Viewer Dashboard and Slideshow
The Viewer now supports an optional dashboard overlay. With the dashboard, users can quickly change rating, label and collections of the active file by touch or mouse.
SlideShow
A basic slide show functionality has been added to the Viewer. The slide show cycles through all selected files, infinitely. Slide timing can be controlled via the user settings in IMatch WebViewer.
Result History
IMatch WebViewer now remembers the last 20 Navigator results (interactive or stored presets). Users can recall any of the recent results with a few mouse clicks (or taps). Similar to the browser history function.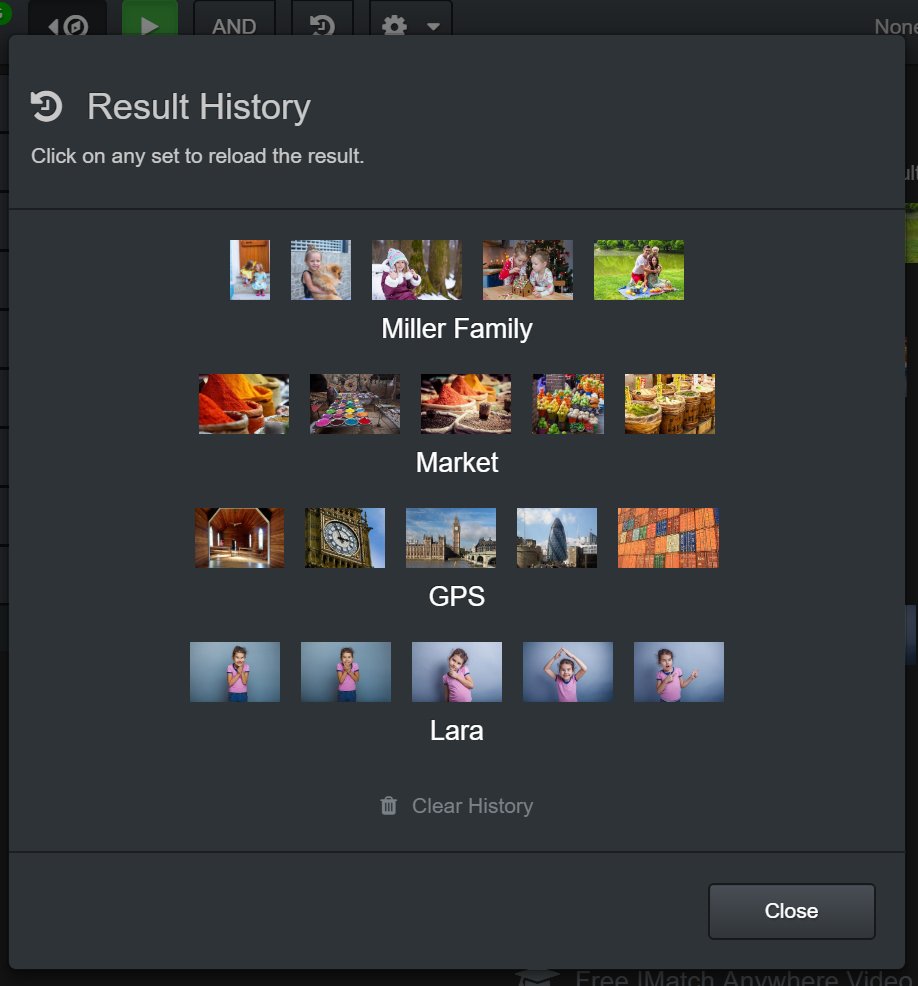 Quick Start
When you start IMatch WebViewer, the five last Navigator results are presented. This means you can quickly continue where you left off in the last session.
Collection Display
IMatch WebViewer can now display collections (bookmark, flags, pins and dots) directly in thumbnail panels.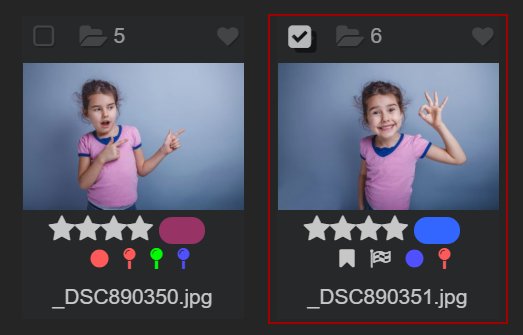 New File Window GPS & Location Layout
This layout has been designed to display GPS coordinates and location data.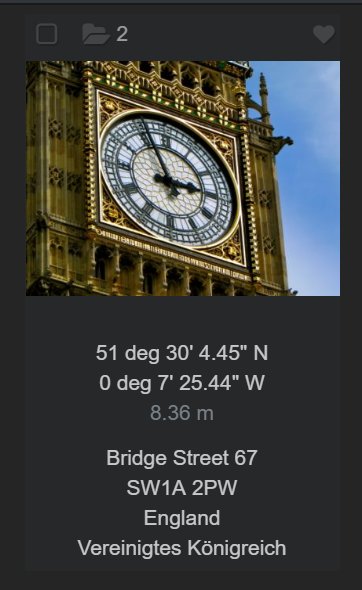 64-bit Edition Only
IMatch Anywhere is only available for 64-bit versions of Microsoft Windows. If you still use a 32-bit version of Windows, you cannot use IMatch Anywhere 2019.
How to Upgrade
Upgrading to IMatch Anywhere 2019 is easy and takes only a few minutes.
1. Click on the button below to open the customer portal
2. At the top you'll see your personal upgrade voucher
3. Click on the Upgrade Now button and follow the instructions
See Upgrade Details below for details about upgrading to and installing IMatch Anywhere 2019.
Upgrading to IMatch Anywhere 2019
Upgrading is easy. IMatch Anywhere 2019 is an evolutionary upgrade and works with your existing databases and settings.
Installing the latest version will automatically upgrade your existing installation - retaining all settings and options.
All IMatch Anywhere users are encouraged to upgrade to version 2019 as soon as possible.
It not only has some exciting new features, but also contains important bug fixes and security updates.
Upgrade Fee
This is a fee-based major upgrade. See our fair update and upgrade policy for details.
If you are eligible for a free upgrade you can just download the new IMatch Anywhere version from the customer portal.
All other users can upgrade to IMatch Anywhere 2019 (HOME, PRO or TEAM) with a 40% discount.
Log into the customer portal and you'll see your personal discount voucher right at the top.
Click on the green button to upgrade. Your 40% discount is automatically applied. The reduced price is displayed in the MyCommerce shopping basket during your purchase.
Installation
Just run the installer after downloading from the customer portal. The installer automatically detects and upgrades your existing IMatch Anywhere installation.
As a precaution, make sure you have a recent backup of your system and database before you install and use the new IMatch Anywhere version.
Note: IMatch Anywhere 2019 uses the same database format as IMatch 2019. This format is not compatible with older versions of IMatch or IMatch Anywhere.
Clear Browser Cache
Please ensure that all IMatch WebViewer users clear their browser cache before opening the new IMatch Anywhere WebViewer. This ensures that the browser downloads a fresh copy of the application from IMWS.