If you are about to review IMatch Anywhere, this guide will save you some time. It combines all important information and links to additional resources on one page.

What is IMatch Anywhere?
IMatch Anywhere™ is a set of new technologies which add server functionality to IMatch. You now can access IMatch databases from any device and any operating system, locally and remotely. All that's needed is a web browser.
Visit the IMatch Anywhere Learning Center for IMatch Anywhere product videos and tutorials.
IMatch
IMatch is a renowned Digital Asset Management system (DAM) for Windows. It has been available since 1998 and is used by thousands of users in over 60 countries.
IMatch enables you to manage digital images, video and audio files, PDF and Office documents and all other file types in one application. It has very strong workflow and processing features, powerful editors for metadata and keywords and hundreds of other features. It cooperates seamlessly with other applications used in typical imaging, video and audio creation workflows.
See the IMatch Overview for more information.
IMatch WebServices™
IMatch WebServices are a central component of IMatch Anywhere. They make IMatch databases accessible as a web service. Other web services, web sites or apps can connect to IMatch WebServices via standard interfaces to access IMatch databases in a controlled fashion. You run IMatch WebServices on a Windows PC to publish your IMatch database.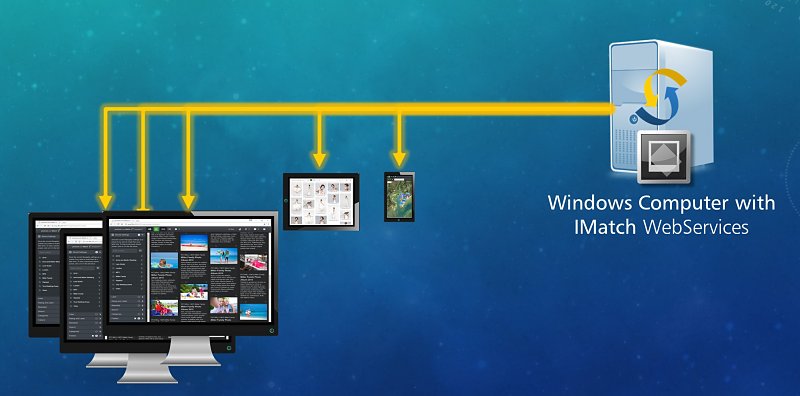 IMatch WebViewer™
This web app enables you to access your IMatch databases remotely using a web browser, from any device and operating system. It connects to IMatch WebServices to access the IMatch database remotely over a local network or the Internet.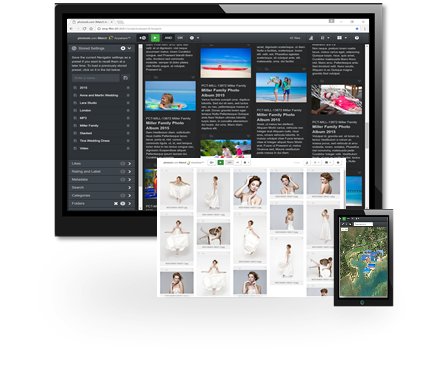 IMatch WebViewer can be used at home to browse IMatch databases remotely. From smart phones, tablets, Mac, Windows or Linux PCs. Even from a Smart TV or 'TV Stick' if you have one of those. This is a great way to present your photos and other files to your family or friends.
In corporate and institutional environments IMatch WebViewer allows users to access the central IMatch DAM via their web browser. The simplified yet powerful user interface of IMatch WebViewer makes DAM contents accessible for users with or without IMatch know-how.
See What is IMatch Anywhere? in the IMatch Anywhere Learning Center for overview videos and tutorials.
Target Audience - Who Uses IMatch (Anywhere)?
IMatch is a powerful DAM. It has not been designed for casual users, but for professional photographers, serious amateur photographers, scientists, librarians, artisans, artists and all other people who need to efficiently manage large collections of digital assets. On a budget.
IMatch manages arbitrary file formats and is not limited to image files. It cooperates well with standard applications like Adobe Photoshop or Lr, RAW converters, Office applications and other software typically used in digital content creation workflows. Users manage between 50,000 and 500,000 files with IMatch.
IMatch Anywhere is available in several editions: HOME, PRO and TEAM. The editions mainly differ in how many concurrent users are allowed and whether advanced security features are included.
The HOME edition is an ideal extension for users who already have IMatch and now want to be able to access their database from their smart phone, tablet or TV. This edition is available for a very fair price. Every user can afford to add IMatch Anywhere to her or his existing IMatch license.
The PRO and TEAM editions address small and larger businesses, studios, corporate and institutional users. With IMatch Anywhere it is now possible to setup a organization-wide DAM solution in a few minutes. Only one or two employees (maintainers) need IMatch know-how to setup and maintain the IMatch database, ensure data-quality and manage the DAM workflow. All other users just access the DAM via the IMatch WebViewer app running in their web browser. With the competitive edition price structure, IMatch Anywhere is probably one of the most cost-effective ways to deploy DAM services within a business or organization.
Developers can access IMatch database contents by connecting to IMatch WebServices using the programming language of their choice. This makes it possible to integrate IMatch contents into web sites, other web services, content management systems and applications.
For details about the available editions, pricing information and money-saver Plus editions, see IMatch Anywhere Licensing.
User Reviews for IMatch
Click on the Capterra logo for unbiased and unpaid reviews of actual IMatch users.
IMatch is one of the Top Digital Asset Management Software Products.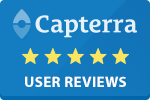 Slides & Screen Shots
We have prepared a set of slides and screen shots for you.
Hardware & Software Requirements
IMatch and IMatch WebServices need a PC running Windows 7 (with platform update 1), Windows 8 or later editions of Windows.
A modern processor, 4 GB RAM and a fast hard-disk or SSD are recommended.
IMatch WebServices have been designed to run on small-scale hardware like tablets, 'Stick PC's' or box PC's when there are only a few users or small databases.
To support many concurrent users or databases with hundreds of thousands of managed files, a state-of-the art computer with multiple cores, 8 GB RAM and a SSD for database and cache is recommended.
Getting Started
For simplicity reasons we recommended to install both IMatch and IMatch Anywhere on the same computer for the review process. The free trial versions are fully functional and work for 30 days. If you need more than one month to complete your review, contact us and we'll work something out.
1. Installing IMatch
If you don't have IMatch for Windows installed yet, download and install the free 30-day trial version from https://www.photools.com/download.
After the installation has completed, run IMatch via the desktop shortcut and follow the instructions to create your database. Now add one or more folders with a few thousand files (just drag them from Windows Explorer into the Media & Folders View). Use folders containing images (RAW and common image file formats), maybe videos, audio files or Office documents.
Note: If you are going to use RAW files, make sure you have WIC codecs installed which support the RAW formats you use. IMatch processes RAW files via WIC codecs provided by camera vendors, 3rd parties or the WIC codecs included in Windows 10.
The Quick Start Guide available in the IMatch Help menu explains these steps in detail. To make yourself aquatinted with IMatch quickly, read the First Steps and browse the Visual Index in the built-in help system. You can open the help system via the Help menu in the main menu in IMatch or by pressing F1.
2. Installing IMatch Anywhere
Download the free 30-day TRIAL edition of IMatch Anywhere from https://www.photools.com/download. Run the installer and follow the instructions.
After the installer has completed, start the IMatch WebServices controller application via the desktop shortcut. Follow the instructions given by the startup wizard. For the quick-start configuration you'll only need to provide the file name of the IMatch database you have created in step 1.
IMatch WebService come with a full documentation. Just press F1 or click on the Help button in the Controller application to launch the built-in help system.
See the videos and tutorials in the IMatch Learning Center to more info about installing, configuring and running IMatch WebServices.
3. Experiencing IMatch WebViewer
While IMatch WebServices are running, your database is accessible from any device in your local network.
Open your web browser and connect to the URL shown in the IMatch WebService Controller application. See Introducing IMatch WebViewer in the Learning Center for a step-by-step guide.
IMatch WebViewer is responsive and works well on all fairly modern smart phones, tablets, Macs, Windows PCs, Linux computers or Smart TVs.
You can limit connections to your local network, or can configure IMatch WebServices to be accessible from the Internet. For security considerations  and typical deployment scenarios, see the IMatch Anywhere documentation.
The IMatch Learning Center has many video tutorials and know-how articles which explain the features of IMatch WebViewer.
Upcoming Developments
The current version of IMatch Anywhere makes it possible to browse IMatch databases remotely, from any device. This fulfills the frequent requests for platform-neutral access to IMatch databases - especially from business customers.
Over the next few milestone releases we will add features to update the database remotely. This includes metadata and Attribute updates, ratings & labels, collections and categories. We will also add features to upload files 'into' the IMatch DAM directly from devices and browsers.
The IMatch Anywhere technology will be included into the main IMatch product over the first months of 2017. This will allow IMatch to utilize web technologies like cloud access, web-services (e.g., for image analysis and face detection) seamlessly. And it will provide a modern scripting environment for users who write scripts to automate DAM tasks with IMatch.
Some Facts
IMatch is available since 1998
IMatch is created and supported by Mario M. Westphal. He lives and works in Germany.
IMatch is used by thousands of users from over 60 countries.
About 50% of it' user base use it together with Adobe Lightroom, Adobe Photoshop or other RAW processors.
IMatch was recently elected as one of the Top Digital Asset Management Software Products 2016 at Capterra.
Users love it.
Despite all this, IMatch can still be considered as an insider tip .
Support and Contact
If you need help during your evaluation or you require additional information, contact us any time.