IMatch includes everything you need to manage and organize your digital images and documents easily and flexibly. Let IMatch bother with all the complex and time consuming details of image management.
IMatch is the image management system of choice for many professional photographers, stock photo agencies, graphic artists, librarians, governmental agencies and police forces in over 60 countries.
IMatch's unmatched ability to handle even huge image collections with hundreds of thousands of images, it's strong IPTC, EXIF and XMP metadata capabilities and the overall performance and stability of the system differentiate IMatch from other applications.
Since 2001, users from over 60 countries trust IMatch for their image  management tasks.
Organize With IMatch's Unique Dynamic Category System
Organize your photos in albums and categories like Friends, Family, Aunt Jane, Vacation in Florida 2011 or Mike's Birthday. You can also easily setup hierarchical structures for your entire family tree or your scientific classification structures.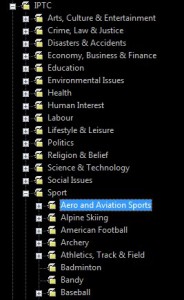 Create any number of categories and add images to any number of categories at the same time. Move images between categories using drag and drop. Automatically create categories from metadata contained in your image files. Use formulas to built relations between categories or to manage the same set of images under different names (aliasing).
Images are not moved or duplicated physically when you assign them to multiple categories. And categorizing also works for images stored on CD-ROM or DVD even if these images are not on-line.
To see all images assigned to a category, you only need to click on the category name. It's that easy! The Category Builder makes it easy to combine categories by drag and drop, e.g. to quickly see all images contained in both "Family" and "France".
RAW File Support
IMatch natively supports all major RAW formats from Nikon, Canon, Olympus, Fuji, Minolta, Sony, Leica, Panasonic and others via components provided by the camera vendors. It supports all current variants of Adobe DNG™ and is compatible with the Windows WIC standard. See Supported File Formats for more information.
IMatch supports over 100 image formats and format variants, plus many multimedia, video and audio formats.
Color Management
IMatch is supports ICC-based color management and handles the embedded color profiles in your images in all display functions. Customizable Monitor profiles, automatic handling of the EXIF DCF optional color space are fully supported.
Side-by-Side Comparison
A special Side-by-Side window allows you to compare up to four images.
You can zoom and pan individual images or use the synchronized pan & zoom feature. A loupe function allows you to inspect areas of each image at 100% with a single mouse click.
The navigator, dive zoom and other functions allow you to quickly find the best shot in a series. You also get a dynamic histogram, quick grayscale preview and a clipped highlights & shadow overlay for dynamic range assessment.
Removable Media Handling
IMatch is fully aware of all your removable media. When you burn images to CD-ROM or DVD, you can just "relocate" these images in your IMatch database. This tells IMatch that the images are no longer on your hard disk, but on a removable medium.
IMatch knows at all times where your images are located. The off-line file handler jumps in automatically when you perform an operation that requires access to the original image (e.g. copy, edit) and prompts you to insert the corresponding medium. IMatch supplies all the information you need to locate the correct medium, and it automatically locates the medium in any CD-ROM/DVD/BR drive you have.
The Folder Filter feature allows you to temporarily hide all remote, removable or off-line folders from the database window, for an uncluttered view. This is especially helpful for users who have to manage dozens or even hundreds of removable media.
XMP© Support
IMatch fully integrates the Adobe™ XMP© metadata standard. It backs XMP with a unique database technology that keeps compressed cached XMP data and a special index as an integral part of your database.

This technology makes XMP so fast in IMatch that you can display XMP data next to each thumbnail, or sort images based on XMP data. Of course you can also search for XMP data using a simple, search-engine like interface and even regular expressions.
IMatch includes a flexible XMP editor which gives you full access to all XMP data contained in your image files or sidecar files. This editor works together with the IIM IPTC editor in IMatch, allowing you to use your custom thesauri in both editors. Custom coloring for namespaces, direct thesauri access, filtering on fields and data are also available.
Of course IMatch can also work with XMP templates created by other applications.
XMP Integration
XMP is fully integrated into the dynamic category system in IMatch. With the unique data-driven categories you can automatically group images based on XMP contents. This unique concept allows IMatch to categorize and group images automatically based on existing XMP data. A big time saver. Categorize your images instantly by attributes such as Date, Camera Model, Lens, ISO, Photographer Name, Rights, …
IMatch also supports ratings and labels and maintains them in a XMP compatible way. You have full control over the label names and colors used by IMatch. This allows you to integrate IMatch into your existing workflow with Adobe Photoshop, Bridge, Lightroom, Nikon Capture, Bibble and other frequently used applications.
IMatch can optionally create XMP data from the existing IPTC and EXIF information in your images, which allows you to  work seamlessly with all three meta data standards in all IMatch modules.
Since IMatch integrates XMP into its unique variables concept, you have full access to XMP data in all modules supporting variables, including contact sheets, the batch processor, smart rename, slide show, image preview and even thumbnail panels.
Strong IIM IPTC Support
IMatch has a very s
trong IIM IPTC background. The built-in IPTC editor is respected as one of the best editors on the market. Despite the availability of XMP, classic IPTC is still the most widely used metadata standard in the imaging and publishing industry.
The IPTC editor can add/update IPTC data in individual images, or in hundreds of images at once. User-definable templates, thesauri and one-click keyword lists speed up data input. If needed you can use custom scripts for data cleanup and data quality insurance tasks.
IPTC Keywords and Categories
IMatch automatically creates dynamic categories from the IPTC categories and keywords in your images. Simply reuse your existing tags and keywords to categorize and group your files.
In addition to these automatic categories you can add your own category hierarchies. Categorize your images based on topics like projects, clients, locations, themes, equipment, date and time and the like.
The dynamic category concept in IMatch takes care that your categories stay in sync with the IPTC information in your images – even when you update IPTC information in other applications like Photoshop.
EXIF Support
IMatch fully supports EXIF 2.2 standard meta data. In addition, IMatch supports over 450 proprietary maker note fields from Nikon, Canon, Olympus, Minolta, Fuji, Sony and other camera vendors.
IMatch allows you to use EXIF information in many features. You can search for EXIF data, use it for sorting, use it in the IPTC editor, the batch processor and the contact sheet builder. You even have access to EXIF variables from within the scripting engine, and the web publishing module.
The EXIF editor can edit and write back selected EXIF fields, including rotation and date & time. It also supports changing the image date & time in both absolute and relative modes. Great to correct invalid time information because your camera clock was not set correctly.
Quickly Fix Wrong Date and Time Information
The EXIF editor has a special tool to correct wrong time information (e.g. when your in-camera clock was off). Both Absolute and Relative modes are supported, and of course the tool can fix time stamps on any number of files in batch.
Metadata Display
The unique template concept in IMatch allows you to display all metadata (IPTC, XMP, EXIF, Properties, Categories,…) in thumbnail panels and other view modules.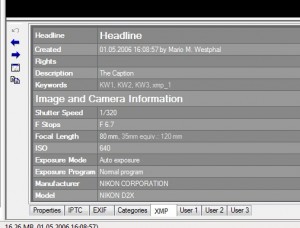 Search your Image Collection
IMatch makes it easy to find images using nearly all the metadata contained in your images and your IMatch database: Properties, File Names, IPTC and EXIF data, XMP data. Also, find visually similar images, binary duplicate images (dupes) or images with certain or similar colors.
Filters
Ov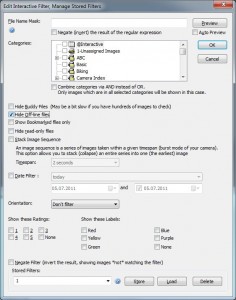 er 20 criteria are available to filter what you see in the active display.
This includes date & time, file format, rating, label, categories and over a dozen other attributes you can use for filtering.
Filters can be saved and later recalled, and you can combine multiple filters quickly via menu.
Filters are a great way to limit the files currently displayed to exactly the sub-set you want to work on right now.
Sorting
IMatch allows you to sort your images using virtually all the information in your database or image files. This includes sorting on EXIF, IPTC or XMP metadata.
You can freely choose from and combine any number of the available criteria and store them in a sort preset. These presets can later be applied to control the order in which files are displayed, and also for features like Batch Rename, Contact Sheets, Batch Processor and other export functions.
GPS Data
If your images contain GPS data, IMatch can use it for searching, sorting and many other purposes. Via IMatch scripts or the property windows in IMatch you can directly link your images with Google Earth™ or Google Maps™ and do many other things with the GPS data in your images.
Producing Outputs
IMatch also contains advanced file processing features, like loss-less JPEG rotation, a feature to rename images in batch using custom naming schemata, the ability to set and correct EXIF timestamps and more.
With the powerful batch processor you can convert your images into over 50 file formats, add text, borders, watermark, copyright statements etc. Since the batch processor can work with IMatch variables, you can even use metadata like IPTC, EXIF and XMP for text overlays.
The contact sheet builder allows you to create contact sheets (index prints) from your images. You can use one of the many presets, or create your very own look. Metadata can be used to add file names, captions, headlines, keyword right on your contact sheets.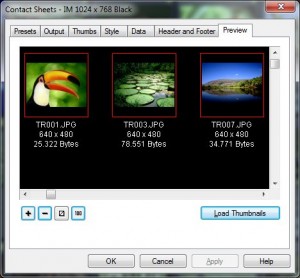 Publish Your Images to the Web
IMatch comes with a flexible Web photo gallery creator to create HTML pages from your images. Thanks to the scripting technology only available in IMatch, you are able to customize the photo gallery to create exactly the layout you want.
IMatch ships with a set of web page templates which you can use right out of the box. You can easily create your own templates, with your own colors and layout. Customized and enhanced versions of the Web Gallery scripts are also available for free from the IMatch Wiki.
Scripting
IMatch comes with a very flexible and powerful scripting language, including a fully integrated development environment. If you want to automate things, perform frequent tasks with a single mouse-click or you have specific demands, scripting is the way to go. It allows you to extent the built-in functionality in IMatch to fulfill all your needs.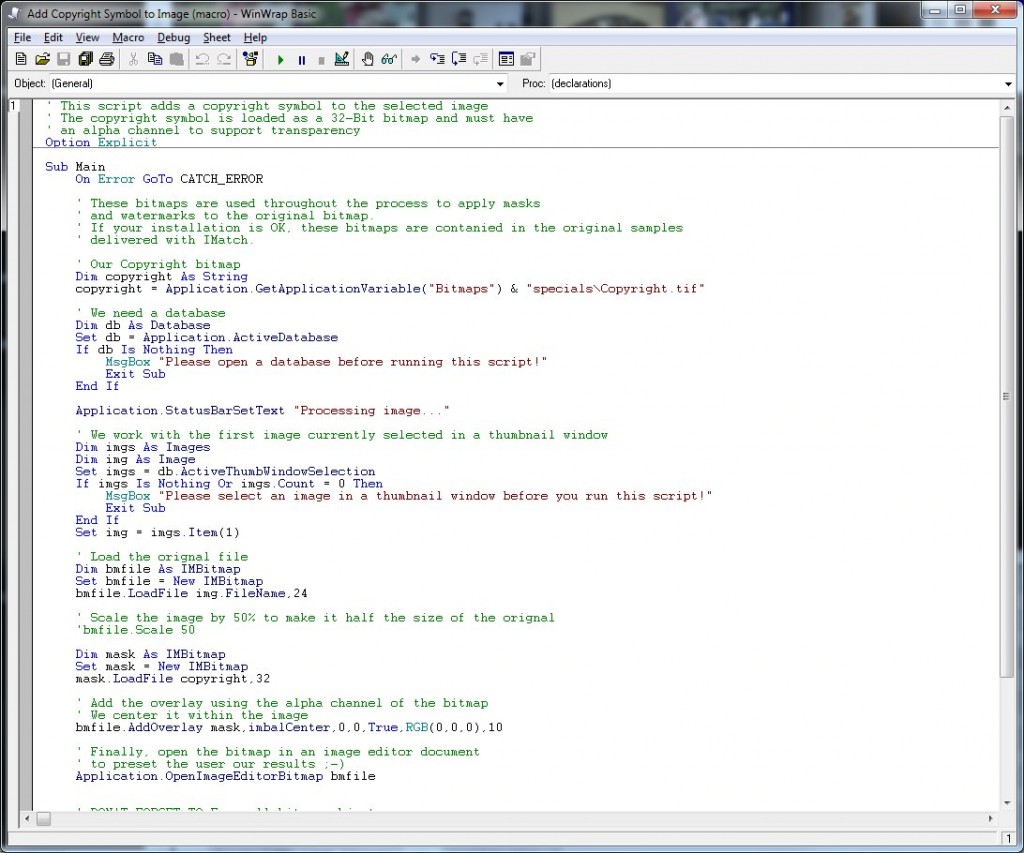 Hundreds of free scripts can be downloaded from the IMatch Wiki web site.
Mobile IMatch
The IMatch license is user-bound. This means that you can use IMatch on as many computers as you like, given that you (the licensed user) are the only user.
You can use the replication services of Windows to copy your IMatch database to your laptop or portable computer. Work with IMatch in the field, and just replicate your database when you're back home. No need to enter IPTC or other information twice. Your office database will immediately be up-to-date.
Application Integration
IMatch integrates your existing imaging applications via a custom Tools menu. Open your images directly from IMatch in Photoshop®, Lightroom®, Nikon Capture®, Bibble®, or any other applications of your choice.
IMatch also fully integrates into the Windows shell. You can drag images right out of IMatch onto other applications or Windows Explorer.
IMatch allows you to perform all file-level operations like Move, Copy, Rename and Delete directly from within the IMatch user interface. No need to switch to Windows Explorer for these tasks anymore.
Try It For Yourself
Download the free 30-day Evaluation Version of IMatch today. Test IMatch with your own files, on your own computer to see if it works for you.
More About IMatch
See the IMatch Know-how Articles and Tutorials section for articles explaining IMatch features in more detail.
Visit the IMatch Wiki for Tutorials, How-To's, Free Scripts and other valuable information.
The IMatch User Forum is a great place to ask questions and learn from thousands of other users from all over the world.